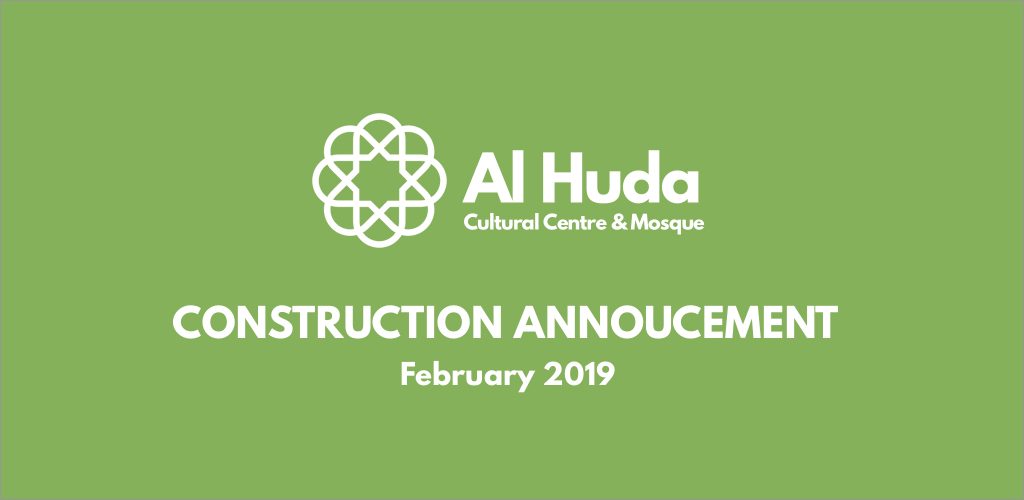 Construction Announcement
In the Name of Allah, the Most Beneficent, the Most Merciful
Alhamdulilah, we can now officially confirm that a building contractor has been selected and notified from the list of companies who have positively responded to the construction tender we sent out for tender in October 2018.
We can now confirm…
Bamfords Trust PLC as the chosen building contractor. Bamfords designed and constructed the 'London Muslim Centre (LMC)' in East London Mosque between 2002-2004 for £10.4 million and later in 2009 the mosque's phase 2 expansion, the 'Maryam Centre'.
The cost of construction of Al Huda mosque (5-floors development) will be £3.8 million and will consist of 2 phases:

Phase 1 – demolition, structure and the building envelope. This initial phase will cost £2.1 million to complete.
Phase 2 – interior works to get mosque ready for use. This phase will cost further £1.7 million.
The next steps – start and end of construction…
Meeting with Bamfords Team scheduled for 14th February to agree on finer details, terms, and conditions of the contract/agreement and for both parties to sign the contract/agreement Insha Allah.
Construction will start in May/June 2019 if not before Ramadan Insha Allah.
Construction will take approximately 17 months and will be completed in Oct or Nov 2020 Insha Allah.
Alhamdulilah, we are in a good financial position to start the project, but we need your HELP and SUPPORT to raise much more in the coming months to ensure the smooth running of the redevelopment project. Please donate generously:
Abu Hurairah (radiyallahu 'anhu) reported from the Prophet Muhammad (sallahu alayhi wasalam) that he said: "When a son of Adam dies, his good works come to an end, except for three: Sadaqah jariyah (ongoing charity), beneficial knowledge (that he discovered or propagated), and a righteous child who will pray for him." [Reported in Saheeh Bukhari and Saheeh Muslim] Helping to establish a permanent Islamic Centre counts as sadaqah jariyyah, a special act of charity which continues to provide the reward of ongoing good deeds to its giver even after they have reached their grave.
We invite all our fellow brothers and sisters in Islam, to embark on this journey with us to seek the pleasure of Allah (SWT) in this life and the hereafter.
Subscribe, like us & follow us on social (@AlHudaCCM) to get the latest news and updates from the Al Huda team.
Got any Questions or Suggestions?
Contact the Mosque Monday – Friday between the hours of 10am – 4pm on 0207 780 9495 or email us on info@alhudamosque.com